Sharp Lenny, Bubble Wrap Lenny
August 20th, 2022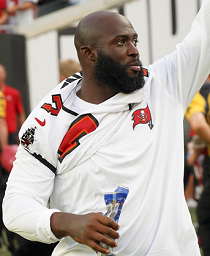 Joe probably should have had an EKG when Bucs stud running back Leonard Fournette started tonight's meaningless preseason game and took the opening handoff up the gut for 10 yards.
Nice run. He looked great. Now get him the heck out of the game!
But the Bucs kept working Playoff Lenny. He finished looking ready for opening day with with five carries for 20 yards and two catches for six yards.
It's officially official. The early-summer nonsense that Playoff Lenny was too fat for success was nothing more than the musings of a donut-loving reporter.
With Giovani Bernard nursing an injury suffered on Aug. 13 and Rachaad White looking a little shaky, the Bucs really need to put Fournette in bubble wrap and end his preseason.
Does any Bucs fan really want to see Fournette on the Indianapolis dome turf next week? Keep in mind the Rams won the Super Bowl last season without playing any starters in preseason. And the Bucs won the previous Super Bowl in a season that had no preseason.
Joe just wants Playoff Lenny staying in shape in practice and throwing the occasional right hook. No need for another meaningless preseason snap.