Louis Riddick Loves The Physicality Of Bucs Defensive Line
August 29th, 2022
Former NFL personnel guy and current BSPN talking head Louis Riddick seems to be a big fan of Bucs coach Todd Bowles.
Bowles is an old-school Bill Parcells guy when it comes to defense. Bowles always has and always will be a stop-the-run-first kinda guy.
Riddick, a former defensive back like Bowles, comes from the same coaching tree, just a different branch. Riddick played for Nick Saban and Bill Belicheat in Cleveland (for those that don't know, Saban was Belicheat's defensive coordinator in Cleveland) in an age when you still had to stop the run to have a good defense.
And it seems Riddick is loving the Bucs' defensive line. Riddick watched a few minutes of the Bucs' preseason game with the Colts on Saturday night and took to Twitter raving about it.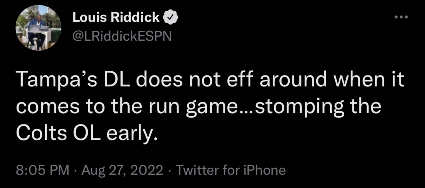 After Riddick posted this Saturday night, someone replied suggesting Akiem Hicks was looking like a beast. Riddick responded, "Because he is."
Riddick absolutely loved when the Bucs signed Hicks. Riddick called Hicks an "@ss-kicker" who mauls offensive linemen.
If healthy, Vita Vea and Hicks lined up side-by-side should do damage to opponents' interior lines, which should help free up Bucs sack king Shaq Barrett and Joe Tryon-Shoyinka.
This makes Joe water at the mouth for the football season to get here. It's going to be a long two weeks.
When it comes to dudes talking football, Joe could listen to Riddick all day. He's that damn good.