Little Room To Quicken The Tom Brady Release
August 23rd, 2022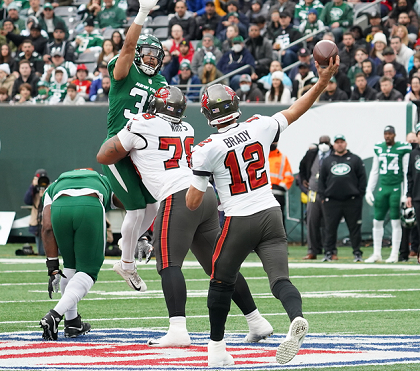 Since the technology-driven NFL NextGen stats launched in 2016, Tom Brady's "Time To Throw" metric has been tracked meticulously. 
And a very interesting stat has emerged.
.
In 2021, Brady's average Time To Throw, which measures snap-to-release of each pass, was 2.50 seconds. That was Brady's fastest single-season time since the stat was born. It also was second-fastest in the NFL behind Ben Roethlisberger.
In the wake of the Bucs' recent offensive line injuries, Joe has heard a lot of chatter about how Brady likely will speed up his release to account for a shakier line. That probably will hold true at times, but the data leads Joe to believe Brady won't be able to do much of that, as he's already getting rid of the ball at a pace he hasn't experienced previously.
Joe doesn't estimate Brady, but there are limits.
Last year, Brady didn't play with any new pass catchers, so the chemistry was optimum. And that chemistry has a tie to releasing the football.
If you're releasing one-tenth of a second later with new targets in 2022, and the defense is pushing the pocket one-tenth of a second faster on your depleted O-line, then that is a combination that will lead to more sacks and less efficiency.
It would speak loudly to Brady's legendary greatness if he has another fantastic year releasing the football faster than he did in 2021.
Tom Brady must have jokes. He has @MikeEvans13_ LOL-ing #GoBucs pic.twitter.com/Sx958xtlCI

— Kyle Burger (@kyle_burger) August 23, 2022