Fast Start, Fast Exit For Tom Brady
August 27th, 2022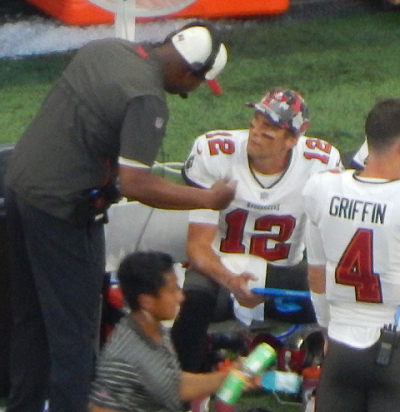 If you spent too long in the toilet, you might have missed it.
The Bucs won the coin toss tonight and elected to receive, and then Tom Brady got them in their hurry-up offense.
Leonard "Lombardi Lenny" Fournette opened the action with a 13-yard run up the gut, and then it was Brady, Brady, Brady. He finished the series against Colts 6-of-8 for 44 yards, including a Tyler Johnson drop plus Mike Evans picking up a pass interference penalty.
The 11-play, 66-yard drive ended with a 30-yard Ryan Succop field goal.
And that was it for Brady. He looked sharp and he got good pass protection. Game over. Thank you, Todd Bowles!!!
No need to get Brady hurt. He went through his pre-game routine and it was on point, as was his performance. Bring on the Cowboys.
Joe saw Brady immediately go to the bench after his series and grab the Surface tablet to watch the film, with Blaine Gabbert alongside him and Byron Leftwich coming over for a chat.
All is good in Joe's world.