Despite No. 2 Ranking, Bowles Says Bucs Only "Decent"
August 6th, 2022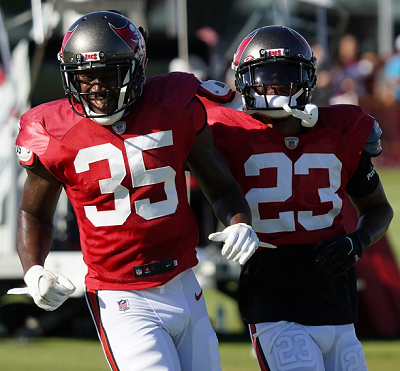 There's a crazy-intense focus at One Buc Palace that comes from the head coach and has defensive players dialed in.
Tampa Bay tied for fifth in forced turnovers last season — fumbles and interceptions. That's damn good, and it was good enough for second in the NFC. The Bucs were tied for eighth in picks (17) and tied for fourth in forced fumbles (12).
The champion Rams had 19 interceptions but were near the very bottom of the NFL in forced fumbles.
No, you don't need to force a ton of turnovers to win a Super Bowl. Heck, the Bucs were tied for fifth in the NFL — just like last year — when they won it all two years ago.
Several Bucs defensive backs have told Joe that the target for interceptions this season is 30 collectively, nearly double last season's total. That's a big reason DBs have been diving all over the place in training camp practices and moaning about all their dropped interceptions in 2021.
Today, Bowles talked about the Bucs being only "decent" at forcing turnovers last year when you look at "drops" and "misfits" on defense. And it seems Bowles has sold his message, despite the Bucs' success the past two years. That's one sign of a strong coach.