Cam Gill "The Ultimate Professional"
August 14th, 2022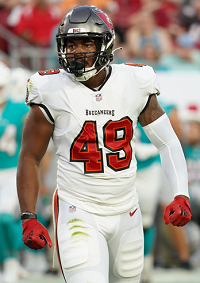 As for the Bucs defense last night in the preseason opener, the thing that jumped out at Joe — other than being stout against the run, what's new? — is the Bucs may have strong depth at outside linebacker/edge rusher.
Anthony Nelson was Anthony Nelson. The former fourth-round pick is sneaky good. Even had more sacks last year than Joe Tryon-Shoyinka — and yes, Joe is fully away JTS was a rookie and Nelson was in his third season.
So last night Joe saw veteran backups Cam Gill and Nelson get sacks. Gill is one of those guys that seems to get a little bit better every year. Bucs coach Todd Bowles is a big fan.
"Cam has been the ultimate professional," Bowles said. "Every year he's got something different that he learned from the year before that he added to his game. When he first got here, he was strictly power. And he didn't know how to play it.

"Each year his technique has gotten better and his awareness has gotten better, his drops have gotten better. And he is a tenacious rusher. We don't mind putting him in there. We don't think we are losing anything when he goes into the ballgame. He has become very trustworthy."
So it seems with the results Nelson gets quietly, and the way Bowles trusts Gill, the Bucs ought to have decent if not good depth at outside linebacker.
Both outside linebackers had a sack along with two tackles for loss last night.