Tyler Johnson Can See The Tom Brady Teaching In Kyle Trask
August 14th, 2022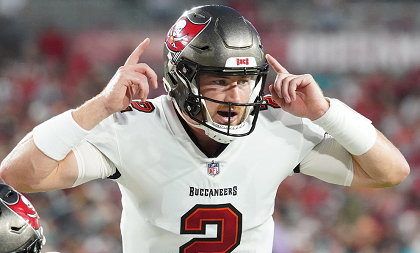 Tyler Johnson believes the Tom Brady influence was on display for Bucs reserve quarterback Kyle Trask last night.
In a 26-24 loss to the Dolphins, Trask did not get suffocated over and over by pressure situations. And Johnson believes Trask learned how to play under pressure from the master that is Brady.
"He's learning, learning everything," Johnson said of Trask. "I think with him, being able to be under [Tom] Brady" he's learning bits and pieces.
One thing Johnson thinks Trask picked up from the master showed in the final drive, one that Trask engineered and should have been a game-winner but for a field goal attempt that hit the upright.
Under pressure situations, Brady never gets rattled. Ever. In the final drive, Johnson said he could tell Trask didn't either.
"His poise, he was calm," Johnson said of Trasks demeanor under pressure. "Everyone out there was calm. We go over those situations almost every day in practice and they were able to trust their training, trust their technique and just go out there and made plays."
It's great to learn the moment was not too big for Trask. If he can focus through the noise and pressure, the rest is simply execution.
A promising night from Trask.