A Day Of Cheetah Chasing For Carlton Davis
August 10th, 2022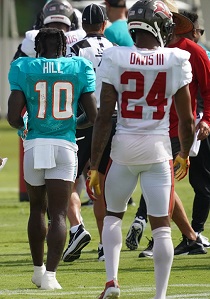 Joe didn't see any flashed deuces at Tyreek "Cheetah" Hill today at Bucs practice.
However, there was plenty of attention given to Cheetah, the Dolphins speedster receiver the Bucs know well from his days with the Chiefs. Of course, fans remember Cheetah torching the Bucs in Tampa on a late-November day as the Bucs lost entering their bye week. They didn't lose again that season, including against Cheetah and the Chiefs in the Super Bowl.
Bucs cornerback Carlton Davis remembers his epic fails and wins against Cheetah and was happy to reflect on that after today's Bucs-Dolphins joint practice in Tampa.
"It was a pivotal moment in the season both times for us. You know, going up against him today, was just a good flashback," Davis said of Cheetah. "It was fun, though. It was fun to get out there and just, you know, face him. Let's do it again. As a corner, I feel like you have to have that mentality."
Davis said there was no trash-talking going on, just "nice practice etiquette," though he implied some might come tomorrow.
Davis was upbeat about his practice showing and added that he believes the Bucs secondary very likely could be the best in the NFL this season. That's how much he thinks they've improved collectively.