Tristan Wirfs More Valuable Than Mike Evans?
July 6th, 2022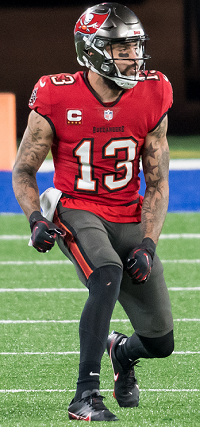 Time to open a Big Storm beer and continue a debate that was getting hot yesterday.
Starting Bucs guard of yesteryear Ian Beckles (1990 – 1996) was barking on the WDAE radio airwaves about ranking "untradeable" Buccaneers — after the obvious can't-touch-this quarterback Tom Brady.
Beckles didn't flinch. He believes right tackle Tristan Wirfs is a much more untradeable cog than the best receiver in Bucs history, Mike Evans.
Heck, Beckles even implied that Bucs' 2022 season wouldn't come crashing down without Evans. But Wirfs, he's more valuable to the franchise in Beckles' mind.
"Every team in the league wants Tristan Wirfs," Beckles began. "There's not one team in the league that doesn't want Tristan Wirfs. And I don't care who you got, you want Tristan Wirfs. Period. You know why? Because you might be able to put him at left [tackle]. … Next in line [as untradeable] might be Vita Vea, if he stays healthy."
Joe thinks Beckles is off the mark. It's 2022. A right tackle is not more important than a superstar receiver in his prime that many believe is a top-5 receiver.
Joe's not knocking Wirfs or questioning his greatness, but he's still a tackle. Anyone out there know who the Rams' starting right tackle is without hitting Google?
The core difference is Wirfs likely has nine prime seasons left in his body compared to four for Evans.
Thankfully, nobody at One Buc Palace will have to entertain this summer hypothetical.
As for Vita Vea being the next most untradeable after Wirfs, Joe can't go there, either. Heck, the Bucs won a Super Bowl with Vea missing most of that season.