Offseason Lenny
July 6th, 2022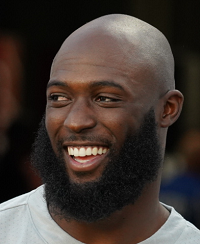 Joe has referenced how it's currently list season for various NFL media types. You know, compilations like the top-8 backup receivers likely to improve their yards-after-catch numbers after halftime.
It's also the season of workout videos for NFL players.
Some videos try to send a message to potential employers. (Joe's waiting for an intriguging JPP mini-documentary.)
Others are nods to fans wondering how a guy's health is faring. Sometimes the video is a self-motivating tool or a way to impress lusting suitors who might respond on social media. And then there's some of the odd stuff Jameis Winston likes to pump out.
Bucs running back Leonard "Lombardi Lenny" Fournette was slapped around a bit by a handful of Bucs and NFL media types for being overweight at June minicamp. Joe was not among them.
Lenny acknowledged that he needed to shed weight before training camp and that he would be his usual powerful and fit self. Joe has no reason to doubt the guy.
Fournette fired back at Shannon Sharpe and later posted video of him sprinting.
Yesterday, a video surfaced of Fournette training with Pro Bowl Bengals receiver Ja'Marr Chase, Lions running back D'Andre Swift and Patriots cornerback Jalen Mills. It apparently was shot by a personal trainer working with the four young men. Joe suspects more Lombardi Lenny video is forthcoming.
Plenty of NFL legends used late spring and training camp to get in shape, rather than the more popular year-round fitness of 2022 players. The first approach may hinder a guy's ability to thrive into his 30s, but Fournette just turned 27 and Joe has no concerns today.
Ja'Marr Chase, D'Andre Swift, Jalen Mills, & Leonard Fournette putting in work 😤@Real10jayy__ x @DAndreSwift x @greengoblin x @_fournette

(via @JBush____) pic.twitter.com/FHasUQgjD9

— B/R Gridiron (@brgridiron) July 5, 2022