The Greatest Receiving Corps In NFL History?
July 26th, 2022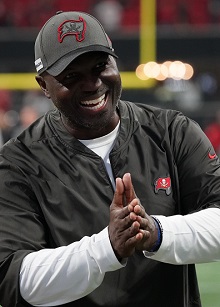 They're playing real-world fantasy football at One Buc Palace and Joe's loving every second of it.
But Joe's not fantasizing here. The Bucs, after signing Julio Jones, may now have the greatest receiving corps in NFL history.
Put on your thinking cap for a minute. Mike Evans is on a Hall of Fame track after eight seasons and nearly 10,000 yards receiving. Healing fast Chris Godwin is a former Pro Bowler who caught 98 passes last season. Russell Gage is the highest paid No. 3 receiver in NFL history, per Joe's research. And then there's legendary Julio, a slam-dunk Hall of Famer trying to resurrect his career — at 33 years old and after an injury-riddled season, his first without the only quarterback he ever knew.
Joe is not betting a nickel against Jones, though Joe would bet on Cowboys defensive coordinator Dan Quinn having diarrhea tonight. Jones is a prideful, freakish athlete and a guy that will benefit greatly from playing with an elite quarterback and rarely getting double-teamed.
Anyone want to be a defensive coordinator prepping to face that bunch, if they're all healthy? And throw in speed demon Scotty miller in a five-wide set just to make it fun.
Just imagine if all those guys stay healthy. Joe can't think of a team that's ever served up that much juice at wide receiver.