"Career Year" Set Up For Leonard Fournette
July 10th, 2022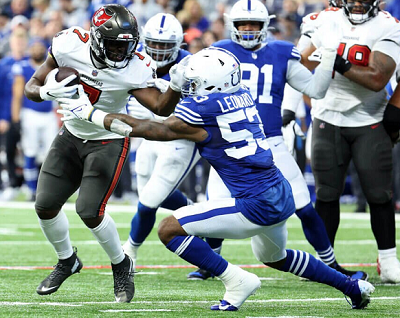 Can you sign a left tackle off the street, put him in the starting lineup and win a Super Bowl with a very old quarterback?
Of course you can, and Ryan Harris is proof.
He was 39-year-old Peyton Manning's left tackle during the Broncos' Super Bowl season of 2015. Harris was plucked off the street in late May after an injury to the Broncos' top left tackle, and he ended up winning the job and powered through the entire season as a starter.
Why is Joe talking about Harris, whose 10-year career wasn't very memorable? Because Harris was on CBS Sports HQ talking about how he strongly believes Leonard Fournette is poised for "a career year."
Harris chatted about how the third year in a system with the same quarterback is huge for a running back and his ability to anticipate, which should increase Fournette's speed and production.
It's a strong take that too often gets overlooked.
Lombardi Lenny arrived just before opening day in 2020 and had to learn on the fly. He was cruising last season before pulling a hamstring. And now he's set up at 27 years old to break out while he knows all the nuances of the offense.
And what should help Fournette rack up numbers is him being the clear top dog this season in the backfield. No more RoJo and the Bucs won't hesitate to make him a bellcow, especially if they're down Chris Godwin and Rob Gronkowski early in the season.
So what's a career year for Lombardi Lenny? That would be about 275 carries for 1,200 yards and 10 touchdowns on the ground, plus about 50 catches.