Interesting Drama Behind Rob Gronkowski Retirement
July 10th, 2022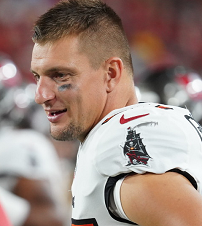 This is an angle Joe never fully explored.
Joe has been all over the foot-rubbing Rob Gronkowski retirement-maybe. And Joe has a raised eyebrow about all of this because minutes after Gronk took to Instagram to claim he's retired, his agent, oily Drew Rosenhaus, went directly to Adam Schefter of BSPN and the creator, curator and overall guru of Pro Football Talk, the great Mike Florio, to claim he could see Gronk returning midseason.
Some retirement!
Joe has gone over how this was all choreographed by Rosenhaus. Let's be real, Rosenhaus is not a stupid man. He knows how to start bidding wars for his clients or how to squeeze more cash from teams. (Remember how he used a dummy phone the night Warren Sapp was sinking in the draft in order to bait a general manager(s) to come get Sapp? Rosenhaus claimed live on BSPN that teams were calling him trying to trade up for Sapp.) That's why Rosenhaus is one of the best agents.
But Chris Broussard took this a logical step further. Speaking on the FS1 hollering show, "First Things First," Broussard said there is no way Rosenhaus goes to Florio and Schefter without Gronk signing off on it.
So if Gronk really is retired, Broussard reasoned, then why did Gronk give Rosenhaus the green light to tell two of the biggest of big-shots in #NFLMedia the door is open for a midseason return to the Bucs?
Well, the answer is Gronk isn't retired-maybe.
To add credibility to Broussard's claim, it is nearly a month since Gronk called Bucs AC/DC-loving general manager Jason Licht to tell him he was calling it a career. And what has Licht done to address this massive hole in the roster? Not one damn thing.
Don't tell Joe that Licht plans to go to war in likely Tom Brady's last year with only one tight end on the roster who has ever caught a pass in the NFL.
(No, Joe is not factoring in camp meat/current No. 4 tight end Codey McElroy, who actually has taken a snap in an NFL game.)
To hear and see Broussard's take on Gronk's retirement-maybe, you can click the FS1 video below.
.@Chris_Broussard reacts to Gronk announcing his retirement: pic.twitter.com/y3Tmmti004

— First Things First (@FTFonFS1) June 22, 2022