Tom Brady Doesn't Deny Negotiations With Miami Dolphins
June 9th, 2022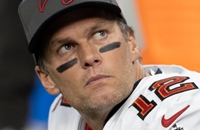 The chatter in many NFL media circles about Tom Brady being ready to join the Dolphins in the Winter of 2022 as a football executive/owner finally got more clarity today.
Sage of Tampa Bay Sports and JoeBucsFan.com columnist Ira Kaufman asked Brady if there was any truth to the reports of him negotiating with the Dolphins to join them in any capacity.
Brady didn't reply with a yes or a no, but he did say he had a lot of offseason discussions about many opportunties, and Brady said he's also been busy looking at post-career opportunities over the past three of four years.
So there you have it. Brady's non-answer, as he stood at a One Buc Palace podium with team logos behind, means he it's a safe bet that he was indeed interested and ready for a winter bolt to South Floridfa to try his hand at fixing and owning the Dolphins.
Thankfully, he got smart and returned to the Bucs.