Tom Brady Says Next Six Weeks Are Critical For Russell Gage
June 9th, 2022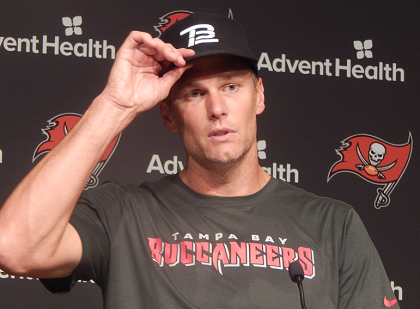 The man stepping in to try and fill the shoes of Chris Godwin is very much on the mind of Tom Brady.
The Tampa Bay offense is the engine that drives the team, so Joe certainly had to ask Brady today about newcomer wide receiver Russell Gage. Unfortunately, Gage has not been practicing because he has an undisclosed injury.
Yeah, Gage has been catching balls on the practice sidelines and in meetings, but he's not been working much more on the field.
Now comes the Buccaneers' six-week summer break and, per Brady, it seems like Gage is entering a critical period.
JoeBucsFan.com: What has to happen for Russell Gage to be ready to go Day 1? We know you put in a lot of work in advance when you got here in 2020 with receivers in April.

Tom Brady: A lot of work. A lot of work. He has to have a good year. You know, we signed him to a contract and he's got to come in and do a great job. And the time I've spent with him, you know, I really enjoy it and I think he's got a great opportunity. That is a very important role for an offense that throws the ball as much as we do. We have favorable passing condititions. You know, you need a lot of good receivers.
Joe was really intrigued by Brady's passion answering this question. It's not often that anyone would hear Brady — in June — say a guy "has to have a good year."
Also, it sounds like Brady was sending a message to all his receivers not named Evans and Godwin; make the most out of the next six weeks before training camp begins.