Leonard Fournette Said He Knew Tom Brady Would Return
June 7th, 2022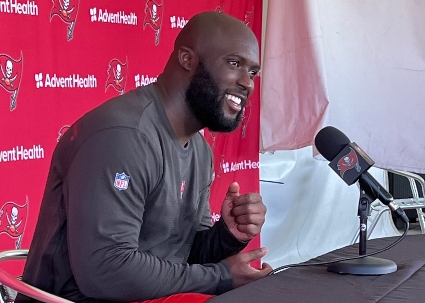 When Tom Brady announced in March on social media that he had his rapture and would return to the Bucs, Playoff Lenny said all the dots had been there to connect that Brady wasn't done with football.
Though Playoff Lenny admitted Brady never tipped him off for sure he would return, Playoff Lenny regularly kept in touch with the future Hall of Fame quarterback during the 40 days Brady loafed at home.
"I kind of knew," Playoff Lenny said. "I told him, I want to say two days after the game, I'm like,'TB, you can't go out like that.' He agreed with me. We [had] too many mistakes on the field that messed us up. We were playing catch-up the whole game.

"As a champion, I knew he wouldn't want to go out like that for his legacy."
And despite being an old man about to turn 45 following a self-imposed 40-day retirement, Playoff Lenny told Joe and the rest of the local pen and mic club that Tom Brady is the same Brady despite it being the first day of minicamp.
"He hasn't lost a step," Playoff Lenny said.
Ryan Jensen pretty much said the same thing about Brady. He communicted with Brady before his rapture and was not shocked that Brady would return. And like Playoff Lenny, Brady was the same ol' Brady today.
"He expects perfection at all times," Jensen said.