Looking For Akiem Hicks To "Blend In"
June 7th, 2022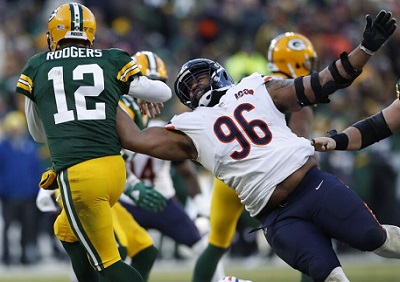 The veteran 6-4, 335-pound manbeast the Bucs signed last month, defensive tackle Akiem Hicks, made his first appearance on the Buccaneers practice field today.
Head coach Todd Bowles surely didn't expect to see much (or isn't saying so) during an underwear football session, but he does have clear goals for Hicks.
Bowles was clear that the Bucs expect him to deliver what he did in Chicago. For those unaware, Hicks was a monster when healthy. And that's the key: when healthy. Hicks has dealt with a wide variety of injuries over the past three seasons; some kept him out of many games and others he played through.
"He can push the pocket and he has a variety of pass rush moves, as well. We're just look for him to blend in with the guys and help us get better," Bowles said.
"…He's a big man, we expect him to do what he did in Chicago. … He'll play a lot."
Joe is all fired up to see Hicks come training camp. Remember, there are no pads or hitting in mandatory minicamp.
What an X-factor Hicks can be, especially if Vita Vea remains a part-time stud. Joe can't think of any NFL team able to line up as much size and talent like Vea and Hicks.