Lavonte David: No Sign This Is Tom Brady's Final Season
June 19th, 2022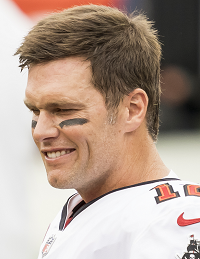 Yes, legendary Bucs linebacker Lavonte David dared to say that his quarterback's February messages felt phony.
David was a guest on The Rich Eisen Show on Peacock last week and noted that he was slightly more surprised by Bucco Bruce Arians' retirement than Tom Brady's.
"With Tom, you know, it just kind of felt that whole thing that he put out wasn't really sincere and that he wasn't really going to step away from the game," David said, adding that he roughly 75 percent believed Brady's February retirement announcement.

"Because if you know [Brady] personally, you know he's just the ultimate competitor and the way he went out last year, I'm sure he didn't want to go out that type of way. You know, even though we went out fighting and battling, but obviously he wanted to go out on top. I'm sure that's not the way he wanted to go out."
David added that through Bucs mandatory minicamp he picked up no hint or sense that this is Brady's final season as a player.
As for Arians, David seemed to imply his leadership will be a challenge to replace. "Just having his presence around is really, really like good to have. Just because of the man he is and how he treates coaches and how he treats players."
David said he got a direct phone call from Arians when the head coach retired.
Brady turns 45 in August and it feels like this is his final season. But a realist might say Brady is more committed and addicted to playing than any football player in history, so why quickly assume this is his final season, especially when he likely could earn $50 million+ playing next year?