Big Tom Brady Start More Important Than Wins?
June 19th, 2022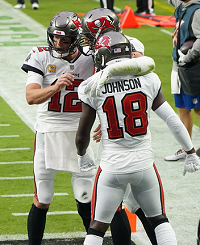 A reasoned, seasoned and respected analyst seems to believe the Buccaneers collectively may have a fragile psyche.
It's hard for Joe to disagree. That's no slam on anyone, but it is a nod to how players could react to the loss of Bucco Bruce Arians combined with Tom Brady's play taking any noticeable step backwards early this season.
Former NFL safety Louis Riddick, who spent 13 years in the front offices of the Redskins and Eagles before jumping into broadcasting, thinks the Bucs need a fast start from Brady more than the team needs to go 3-1 against its opening four opponents (Cowboys, Saints Packers and Chiefs.)
Speaking during NFL Live on ESPN TV, Riddick made the case that there could be a collective and significant loss of Bucs confidence if Brady's footwork looks a little slow or his accuracy is a notch off in the first four games.
And Riddick added that any early struggles would have the team looking at head coach Todd Bowles differently and wondering whether the transition from Arians was as smooth as it appeared this spring.
Of course, a fast start is critical to any team, but Riddick said "the psychological component" for the 2022 Bucs makes a strong start especially important.
He said any Brady faltering likely would have a trickle-down effect on the roster when it comes to confidence.
It's interesting chatter from Riddick, but Joe doesn't think it breaks any ground. The local and national noise would be thunderous if Brady has a slower start. The sharks would be in the water — even if the Bucs win games — and Brady's teammates would be bombarded with questions about their 45 year old quarterback.