The End Is Clear And Near
June 19th, 2022
BY IRA KAUFMAN
When Michael Jackson sang "This Is It' in 2009, he wasn't thinking about an extraordinary quarterback who would lead the Bucs to the promised land.
Thirteen years later, Buc Nation has to come to grips with the state of Tom Brady's incomparable career. Yes, this is it.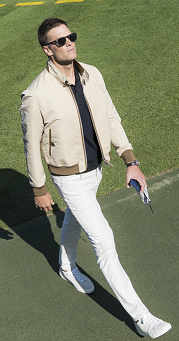 Unless you refuse to read the tea leaves, it has become rather obvious this is Brady's final season at One Buc Place. He's not under contract for 2023, although ownership and the Buc braintrust would love him to sign an extension.
Why not? He shows no signs of slowing down as he enters his 23rd NFL season. He just led the league in pass attempts, completions, passing yards and TD passes. He's feeling healthier than he has in years and his team is favored to represent the NFC in the Super Bowl.
Still, the odds appear overwhelming that the Bucs will have a new player under center in 2023. Tampa Bay fans understandably don't want to contemplate life without No. 12, but it's just around the corner.
In 2017, Brady said he wanted to play until he's 45. He turns 45 in August. He already announced his retirement once, but didn't file the papers. He already has a job in the broadcast booth that will pay him crazy money when he's done shredding defenses.
This is it.
Every time Brady is interviewed, he talks about life after football.
He mentions how close he is to firing his final pass — which will most likely be a completion. Yes, he's an outlier, but even outliers have to yield to the aging process at some point.
Sorry, Miami. If Brady does decide to keep going, why would he want to play for another franchise? Where's he going to find better targets than Mike Evans and Chris Godwin or an offensive line that affords him better protection?
He's not.
Tampa Bay is the best place for Brady until he grabs a microphone instead of a football. He knows that, but his biological clock is ticking and the alarm is about to go off.
He'll give 100 percent when training camp begins because that's what Tom Brady does. His team is all-in and so is the quarterback, at least through the postseason.
But Brady won't make the same commitment in 2023. You can see it in his face and sense it from his comments. In terms of Brady's NFL career, it's not dark yet, but it's getting there.
It's just like him to go out with no fanfare.
With one simple announcement, Brady could embark on a farewell tour through NFL stadiums in the fall. Not gonna happen. He's not interested in basking in the warm embrace of Dallas fans.
That's not in his DNA. He's a cold-blooded terminator more interested in shutting down Jerry's World.
All signs point to Brady bowing out quietly after the season. When he returns to Raymond James Stadium in 2023, it will be to attend his Ring of Honor ceremony.
Good luck getting a ticket.
In the nine previous years before Brady arrived, the Bucs averaged five wins. In their two years with Brady, the Bucs have averaged 15 wins. Yes, the good times have rolled and they figure to roll again if Brady remains upright.
But make no mistake — he sees the finish line and it's coming up fast.
This is it.