Gronk Value On Par With Aaron Donald's?
June 16th, 2022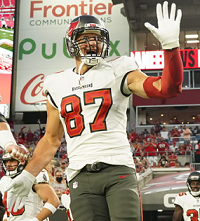 There was a serious yet somewhat bizarre segment on ESPN TV recently.
During a group chat last week, retired quarterback Tim Hasselbeck, one of the reasoned and mellow voices at the wacky network, calmly explained why he believes Rob Gronkowski may be the Bucs' most valuable offensive weapon and is nearly as valuable to Tampa Bay as Aaron Donald is to the Rams.
Yeah, Hasselbeck went there. "I don't think it's to that level, but I think it's close," he said.
In addition to talking about Gronk's value in the passing game, Hasselbeck talked about how critical Gronk and Chris Godwin are to the Bucs' rushing attack. Hearing that would have made any Bucs fan say an extra prayer that Gronk returns this season. Hasselbeck seems to believe Gronk and Godwin are more vital to the roster than Mike Evans.
Also during the segment, former Patriots linebacker Rob Ninkovich suggested Gronk will return after training camp. Joe only gave that a second listen because earlier this year Ninkovich said he on-air that he was hanging out at Gronk's home in Tampa.
The 2021 line on Gronk was 55 catches, 802 yards and 6 touchdowns in just 12 regular season games. And he blocks. And he adds to Tom Brady's comfort and confidence.
Joe can't say he's the Bucs' Aaron Donald, but perhaps Gronk is more valuable than he appears.
Enjoy TODD BOWLES on the Ira Kaufman Podcast (Part II of III)