Agent Explains Tom Brady's Value To FOX
June 16th, 2022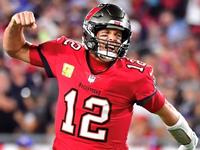 Here's a great look inside our starstruck world.
Longtime NFL player agent Brad Blank joined WEEI Radio in Boston recently and was asked about Tom Brady's pending $375 million contract to be a FOX game analyst/ambassador for the 10 years following his playing career.
Brady's deal is about making advertisers drool and do things they might otherwise not want to do, per Blank and his salary is about pulling in ad money and enhancing relationships.
Consider the story Blank told of a Brady deal he brokered.
"You know, I've done a few deals with Tom, and one was involving the car manufacturer Audi," Blank said. "And at first, you know, I was kind of a middleman in that deal. I was on the board of a charity that got Tom involved and Audi was the biggest sponsor of that charity. So the [CEO of Audi America] approached me and said, "Would Tom be interested in doing some stuff with Audi?"

"And the beginnings of that deal, there was a reluctance on Audi's side. You know, they had a budget to spend a certain amount of money. And there was a negotiation that went on. But when the individual spent time with Tom and started to — I don't wan't to cheapen the relationship — but he started to feel like Tom was his friend, and then he started taking pictures with Tom and Gisele and putting them on his desk, and then his kids called Tom. All of a sudden, that changed the tenor of the negotiations. The budget opened up."
Joe had to laugh: 'So Brady let my kids call him. Give him the extra $800,000! Tom's my new BFF. Take the money out of our employee benefits budget.'
Joe heard all this and had to wonder what Brady is worth to Team Glazer. Hopefully, Team Glazer picks exactly the right time before the end of the 2022 season to offer Brady a gargantuan contract to play in 2023.