Separation Stats Favor Tyler Johnson, Russell Gage And Unavailable Bucs
May 24th, 2022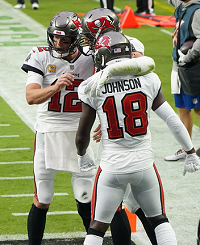 Joe enjoys the NFL's NextGen data because it's objective, derived from sensors in equipment and tracked via technology.
There is no clown involved to spin the numbers.
Via NextGen, the NFL tracks "Average Separation," defined as "the distance (in yards) measured between a WR/TE and the nearest defender at the time of catch or incompletion. Or as Bucco Bruce Arians might say, "it tracks how wide-ass open you get."
The unsettling thing about the 2021 Bucs numbers is that among their top-3 receives/tight ends when it comes to separation. Two aren't on the roster and the third, Chris Godwin, won't be full-go when the season begins.
Here's the Bucs with the best "Average Separation" in 2021, and Joe threw in newcomer receiver Russell Gage, who was with the Falcons last season.
Rob Gronkowski — 3.4 yards
Antonio Brown — 3.4
Chris Godwin — 3.3
Russell Gage — 3.1
Tyler Johnson — 2.9
Mike Evans — 2.7
Cameron Brate — 2.6
Joe was impressed by Tyler Johnson showing up. Arians often was heard saying last season that his backup receivers need to do a better job getting open. It seems Johnson had success in that area but likely was inconsistent.
As for Gronk leading the way with his slightly plodding style, Joe thinks that speaks to how well Gronk knows the offense and the precision of his route running within it.