No Rookie Break Awaits Tom Brady
May 24th, 2022
BY IRA KAUFMAN
Many of the greats have tried — and many of 'em have failed.
The transition from the athletic field to the broadcast booth can be a treacherous one. Just ask Joe Montana, who called his wife while working his ninth game for NBC and spilled his guts over the phone.
"I quit," Joe Cool told her from the booth during Super Bowl XXX. "'I'm out of here. I can't do this."
Tom Brady thinks he can.
FOX Sports has announced that Brady intends to be an NFL analyst for the network when his playing days are over. That could be 2023, or it could be 2026, but at some point, Brady is expected to exchange his uniform for a FOX blazer.
During a conference call with ESPN's new Monday Night Football crew, I asked Joe Buck and Troy Aikman how Brady will eventually fare as a color commentator.
"Would anybody ever bet against the guy being great at anything?," Buck said. "He's kind of cornered the market in that. But it's a new thing, and with new opportunities come new responsibilities. I think it'll be a steep learning curve, and I'm sure he'll be fantastic."
Montana isn't the only star quarterback who fumbled the ball in the booth.
Joe Namath struck out with both NBC and ABC as an analyst. Johnny Unitas, the master of the 2-minute offense, couldn't complete a sentence for CBS. Drew Brees has apparently been sacked after only one year offering commentary for NBC.
"We're all drooling to get Brett Favre in the booth," says CBS analyst Charles Davis. "Peyton Manning, they'd probably break the bank for. If you have aspirations for that, the better player you are, the better shot you have. The one thing you have to be careful of is you're starting at a super-high level, so your mistakes are really glaring. If you're at the highest level, you get dinged right from the start."
A month after legendary pitcher Sandy Koufax retired from the Dodgers in 1966 at the age of 30, NBC offered him a 10-year deal worth $1 million, which was big money in those days.
Koufax worked the Game of the Week but never sounded comfortable. He was shy and introverted as a player and he offered little insight to viewers.
"When you look back at it, it seems a little nuts that a guy who didn't talk much became an analyst," wrote Philadelphia columnist Larry Merchant, who would later emerge as an astute boxing voice for HBO Sports.
No Shortcuts
Koufax held back some of his opinions because he didn't want to criticize former teammates or players he had just competed against.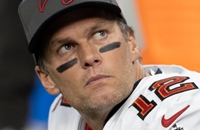 Brady will be entering a tough business that pays very well but offers little job security. Two years ago, FOX declined to re-sign Rondé Barber. Booger McFarland was dropped from the Monday night crew.
"Knowing football is important, but it's not at the top of the list as to why someone is good at broadcasting or not good at broadcasting," Aikman said. "Having an understanding of television helps. Having an understanding of timing and what's happening in the game and what the game requires, it helps. It also helps if you're working alongside a Hall of Famer.

"Like my career in football, if you're surrounded by good people, you have a chance to have success. I think there have been people who have come into this profession and haven't been surrounded by the best people and have struggled."
Aikman's still going strong after two decades in the booth, working primarily with Buck. If Brady is involved in a new venture, Aikman's not betting against No. 12.
"I have nothing but respect for Tom," he said. "Tom has won at everything he's done in life, and there's no reason to think that he won't win at this, as well. The reason I believe that he's going to be good is because he's going to work.
"There's a reason why he's won seven Super Bowls, and it's because he doesn't take any shortcuts — and he's not going to in broadcasting. I think that blueprint is one that not everyone follows, but I think he'll be great."