Aidan Hutchinson Says He Wants To "Smack" Tom Brady
May 29th, 2022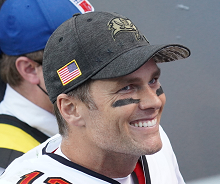 This reminds Joe of when then-rookie pass rusher Chase Young was running across a field and yelling. "I want Tom!"
What he got instead of Tom Brady a week later was the brick wall of Bucs left tackle Donovan Smith in the Tampa Bay-Washington playoff game of January 2021.
Now there's another young edge rusher happy to call out his deisre to punish The Goat.
The No. 2 overall pick in this year's NFL Draft, Lions edge rusher Aidan Hutchinson, sat down for an interview with Saints defensive end Cameron Jordan at the recent 2022 NFLPA Rookie Premiere.
Jordan hit him with a question about his specific sack goals and suggested Aaron Rodgers and Justin Fields might be Huchinson's most desired targets. Incorrect. Hutchinson yearns for a piece of Brady.
Cameron Jordan: … Is there a quarterback that you actually want to sack? Have put on like, 'It would be so dope if I smacked ___'
Aidan Hutchinson: I mean I grew up dressing like Tom Brady for like Halloween and stuff. So like if I were able to smack Tom Brady and get a sack on him, and hopefully, you know, talk some smack when we get up.
Jordan: He may not get back up. He's 45 or something like that.
Too bad the Bucs won't face the Lions this season.
And Joe sure hopes Brady hears the old man shade from Jordan.