Jerome Ford And The Bucs
April 28th, 2022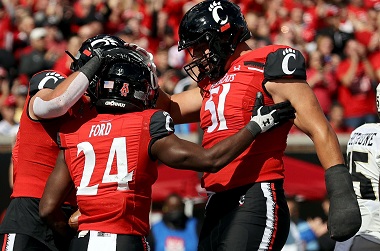 It's unpopular to talk about, but the Bucs could really use a dangerous running back in the draft over the next three days.
There are a few reasons why.
First, Ronald Jones now plays for the Kansas City Chiefs. And he was a productive and dangerous runner. Who replaced him?
Second, running backs are historically quick-impact draft picks. That's exactly what the Bucs need, right-now kind of players, as they look to win a Super Bowl immediately with their ancient quarterback.
Joe likes running back Ke'Shawn Vaughn. Maybe he's ready for a big step up? Veterans Leonard Fournette and Giovani Bernard are valuable, but will they stay healthy this season?
Every year running backs enter the NFL in the mid or late rounds and light a spark, and sometimes it's more like a fire.
That brings Joe to Jerome Ford, the 5-10, 210-pound back out of the University of Cincinnati. Great chance he's there for the Bucs at the end of Round 4. Ford ran 4.46 in the 40 yard dash at the NFL Scouting Combine (same time as two-time Bucs Pro Bowler Doug Martin).
Ford launched his college career at Alabama but didn't like his chances of playing time after two seasons on the bench behind the Crimson Tide's superstar backfield. That led him to rushing for 1,802 yards over two seasons with Cincinnati, including 19 rushing touchdowns in 2021.
Ford is known for his soft hands and explosiveness after the catch. But overall he's a raw talent.
Joe has read how Ford stayed devoted and patient and team-first during his two frustrating years at Alabama, remaking his body and exploding at Cincinnati.
The fast-impact ceiling for Ford is very high, Joe believes. And he is primed to play special teams.
Someone to keep in the back of your mind tonight as you dream of the Bucs drafting a guard in Round 1, or an electric receiver, or the best pass rusher available at any position, among other fantasies.
Beer run!
Always a great weekend when the Bromosa is flowing from @BigStormBrewing pic.twitter.com/XEURMtDFEf

— JoeBucsFan (@JoeBucsFan) April 22, 2022