Jason Licht Back At It With His Second-Day Guards
April 29th, 2022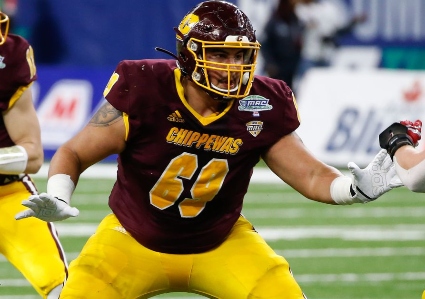 Joe mentioned this on the "Ira Kaufman Podcast" and wrote about it a couple of times.
Jason Licht has a history of hitting home runs drafting guards from small schools in the second day of the draft. He was at it again tonight. He drafted Luke Goedeke from Central Michigan.
Yeah, JoeBucsFan.com draft guru Sean Sullivan even called this — that Licht would draft a second-day small school guard.
Goedeke played at Central Michigan in the MAC.
Here is what Dane Brugler of "The Athletic" in his "The Beast" draft guide has on Giodeke, who Brugler had as his fifth-best guard in the draft.
SUMMARY: A two-year starter at Central Michigan, Goedeke held down the right tackle position in head coach Jim McElwain's zone-blocking scheme. With very few options out of high school, he bet on himself by playing tight end at the Division III level before transferring up to the MAC and transitioning to the offensive line. Goedeke is a finisher in the run game and does a great job staying connected to blocks with his strong hands and balance through contact. In pass protection, he needs to work on his anchor and reset, but he has an active punch and usually keeps his upper and lower halves on the same page. Overall, Goedeke has only two years of playing experience on the offensive line and it shows at times, but he has outstanding play strength with enough lower body fluidity to stay centered in his blocks. He fits best inside where he has NFL starting potential at guard.
Joe isn't sure Goedeke will start right away, but he will compete and have a chance to start if he balls out in training camp.
Guess we now know why Aaron Stinnie only got a one-year pact.
Goedeke is a former Central Michigan teammate of Bucs cornerback Sean Murphy-Bunting.