Grading Jason Licht – Round 4
April 23rd, 2022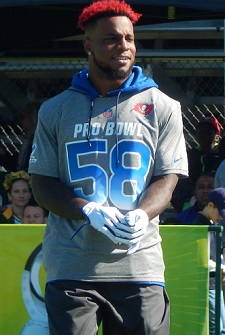 Get out that red pen (too soon?) and grade the record of Super Bowl general manager Jason Licht in Round 4 of the NFL Draft.
One must be a deep thinker to properly grade a GM, including evaluating what moves were made versus the ones that weren't. Scoring a team-building move versus a best-player-available move is critical, too.
Then there's a team's performance and a player's impact within the roster.
Just four days from the 2022 NFL Draft – the ninth of Licht's Tampa Bay tenure – it's time for fans to grab a Big Storm Beer and grade Licht.
The picks:
2014 – None (Traded by prior regime)
2015 – Kwon Alexander
2016 – Ryan Smith
2017 – None (traded to move up for the final pick of Round 3, Kendall Beckwith)
2018 – Jordan Whitehead
2019 – Anthony Nelson
2020 – None (traded for Rob Gronkowski)
2021 – Jaelon Darden
Round 4 is not where you're supposed to find a Pro Bowler (Alexander) and instant starters, but Licht did. And Whitehead just bolted for a giant payday with the Jets.
For this exercise, Joe sort of will call linebacker Kendall Beckwith a fourth-round pick. He had a strong rookie season, but his career was lost to a car accident, and that can't be blamed on Licht.
Say what you want about cornerback/safety/returner/special teamer Ryan Smith, but looking at him through the lens of a fourth-round pick, he was ok. But the next cornerback/safety type off the board after Smith was a better player, Juston Burris (who went to Todd Bowles' Jets). He started at safety for Carolina's  defense last season.
Nelson just finished his best season in Tampa (5 sacks, didn't miss a game) and he truly is an emerging player. Darden? He looked overwhelmed often and appears in danger of getting cut this summer.
Interestingly, the guy drafted one pick after Darden went to the Rams, Robert Rochell. He's a long corner in the mold of Bucs general manager Jason Licht and actually looked pretty good as part of a strong defensive backs unit. He played about a third of the snaps for the Super Bowl champs.
With Nelson's climb and Darden's stumbling cancelling each other out, Joe is giving Licht a solid "B+" for his career work in Round 4.