Bruce Arians: Tom Brady Gets "Way Too Much Credit" For Byron Leftwich's Work
April 6th, 2022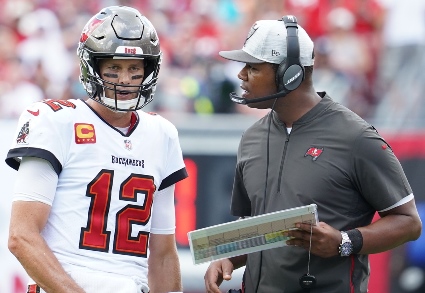 Some might call this a bit of a parting shot.
Former head coach Bucco Bruce Arians, officially now a Bucs front office consultant, is enjoying an extended golfing vacation as the NFL Draft approaches. Speaking from an Arizona driving range today, he told 98.7 FM in Phoenix that he gets too much credit for the work of Bucs offensive coordinator Byron Leftwich.
Arians has said that many times previously, but this time — and for what seems like the first time — he threw Tom Brady into the over-praised basket when it comes to Leftwich.
"I get credit and Brady gets way too much credit for what Byron does with our offense," Arians said. "One of the reasons I hope he gets all the credit he deserves this year is to get a coaching gig; you know, he had about four or five teams real interested last year. … I would anticipate him to be a head coach real fast."
Arians also called Leftwich "a star" who was "so close" to getting the Jaguars head job in January.
True or not, Joe wonders what Brady will think when he hears that Arians says he "gets way too much credit."
All this fun chatter reminded Joe of Brady's famous shake-off of Leftwich in September.
---
Enjoy the latest Ira Kaufman Podcast, the ultimate transition of power episode, presented by Bill Currie Ford.