The Tom Brady "No, No" Call
September 10th, 2021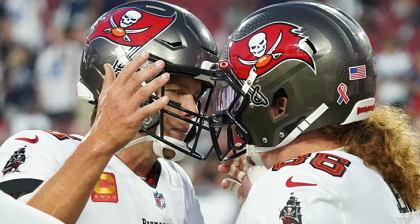 The theatrical value of last night's Bucs game kicked up a few notches with 24 seconds remaining.
Tom Brady put his foot down — hard.
It's all in the must-watch Twitter video below.
Tom Brady is looking at his play card in the critical moment and he appears to get the playcall in his headset. Brady's reaction is to turn ot the sideline and scream, "No!" twice and shake his head a few times.
It seems Brady took command, called his shot and threw the key strike to Chris Godwin that set up the game-winning field goal.
Of course, the TV broadcast made it look like offensive coordinator Byron Leftwich called the play. And likely he did, but Joe can't say with certainty that it didn't come from Bucco Bruce Arians.
Regardless, this is what QB legends do. It's just rare to see it play out on camera.
— UConn Has A Football Team (@UConnHasAFBTeam) September 10, 2021