The Buccaneers And Rachaad White
March 15th, 2022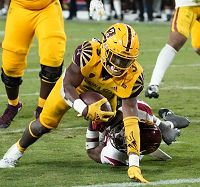 By Sean Sullivan – JoeBucsFan.com draft guru
On the Senior Bowl preview podcast, I discussed my favorite running back, Rachaad White out of Arizona State, and the impact he could have in the NFL.
The 6-3, 215-pounder led all running backs in that college all-star game with 11 carries for 52 yards against a very impressive defensive front full of top-tier talent.
In 2021, he rushed for 1,006 yards and 15 touchdowns, even more impressive was the former wide receiver turned running back catching 43 passes for 460 yards.
My NFL comparison is Le'veon Bell, and it's no surprise he had a formal interview with the Bucs' coaching staff last month where they discussed quick decision-making and pass protection, something Rachaad White takes great pride in.
The Bucs still need a strong running game, even with Tom Brady, and while I like Ke'Shawn Vaughn he is not an every down back and his hands are average at best. A stable of running backs is ideal and this draft offers incredible depth into the third round, where White would fit nicely onto the roster.
Hope you're listening, Jason Licht!
Sean Sullivan — Best in Class
Ask Sean for the JoeBucsFan discount at Bill Currie Ford, Tampa's Family Of Ford and home to the nationwide lifetime warranty on new and used vehicles. Sean's the big boss there and wants to help you personally.