Setting The Table For Byron Leftwich
March 9th, 2022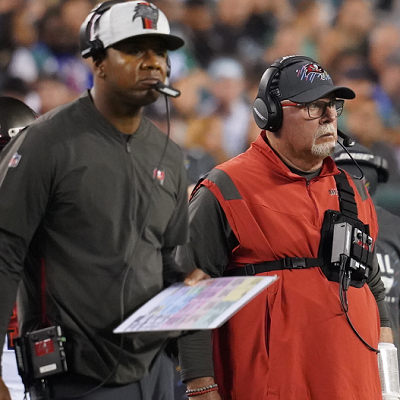 Joe asked Sage of Tampa Bay Sports Ira Kaufman an interesting question last week.
Where will the Bucs' focus lean in free agency? On offense or defense?
The venerable JoeBucsFan.com columnist and podcaster did what he usually does. He answered a different question. "Excluding the quarterback position, they need more help on defense," Kaufman replied, noting that he thought a franchise tag for cornerback Carlton Davis could be a wise option on the table.
So Joe will come back to the original question. Will the Bucs prioritize offense or defense in free agency? Joe thinks the answer is clear.
It's offense. Bucco Bruce Arians and general manager Jason Licht spoke at the NFL Scouting Combine last week and they don't want a new face alongside left tackle Donovan Smith, and they want continuity on their offensive line with vocalized dreams of bringing back two of their three free agent interior linemen: Alex Cappa, Aaron Stinnie and Ryan Jensen. There also was optimism for Rob Gronkowski making it a Year 3 in Tampa.
Joe did not hear any peep of a priority on defense.
Since, Chris Godwin was given a $19 million franchise tag and Carlton Davis is on social media acting like he's leaving town, along with Playoff Lenny.
That lean to the offense leads Joe to believe the Bucs are prioritizing Byron Leftwich as the heir to Bucco Bruce Arians.
Perhaps it's way too early to go there, but if the Bucs watch Carlton Davis, Ndamukong Suh, Jason Pierre-Paul, Will Gholston and Jordan Whitehead walk out the door and replace them with draft picks and bench players, then that sure won't feel like a team eager to make sure Todd Bowles has what he needs/wants for today and beyond.