Donovan Smith Weighs In On Tom Brady And Ryan Jensen Return, Alex Cappa Loss
March 14th, 2022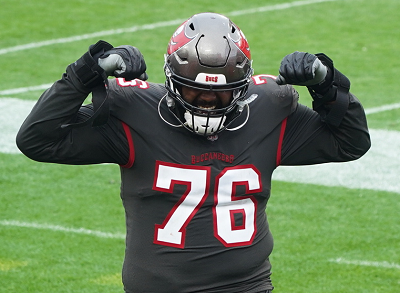 The ironman of the Buccaneers' offensive line, the longest tenured O-lineman now that Alex Cappa will join the Bengals, was asked to talk today about all the fun and change happening at One Buc Palace.
Joe's referring to left tackle Donovan Smith's appearance on SiriusXM NFL Radio. Of course Joe was listening!
As for Tom Brady's unretirement, Smith said he was just like every other fan. He learned of it the way all fans found out, and then he wondered if it was real and was happy it was.
Smith said he respected Brady's decision to retire and felt the same way about his return. When it comes to the business of the NFL, Smith said he tries to stay on an even keel and take it as it comes.
The eighth-year tackle insisted all will be the same at One Buc Palace — as it would have been without Brady.
"The mindset is the same. We come to work. We're going to get coached and we're there to do one thing and that's to win," Smith said. He added that year-round preparation is the focus. "We know what it takes all the way. We just carry those things through."
But when pushed by co-host Bruce Murray, Smith acknowledged that, yeah, Brady changes the mindset a little.
As for the loss of Cappa in free agency, Smith said the Bengals are getting a very detail-oriented player in the meeting rooms and on the field.
"One of my favorite teammates for sure," Smith said of Cappa. "His physical ability speaks for itself."
On Ryan Jensen inking a fat new contract to snap the ball to Brady, Smith reinforced that Jensen is more than just a Pro Bowl center. Jensen is an "anchor" to "the tenacity and how we play and stuff like that," Smith said.
He added that it's time for other linemen to step up in place of the lost guards — Ali Marpet retired last month.
On blocking for Brady, Smith lauded Brady's specificity when it comes to his drops and work, and Smith said it's just about winning 1-on-1 battles one play at a time. Joe will add that Smith does a damn good job of that.
Memo to those who think @DSmith_76 is overpaid.
You're wrong. https://t.co/9jFodwwdXF

— JoeBucsFan (@JoeBucsFan) March 14, 2022