Deshaun Watson Will Come To The NFC South
March 17th, 2022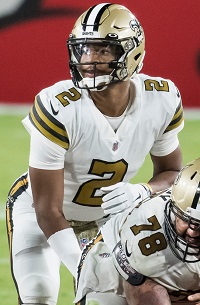 Man, Joe sure hopes Saints fans are left crying in their beers this weekend.
They deserve it.
ESPN's insider reporter Adam Schefter is Twittering tonight that the chase for creepy, massage-loving quarterback Deshaun Watson is down to two teams: Atlanta and New Orleans.
Per Schefter, the Carolina Panthers have been advised that Watson doesn't want them. So it looks like Sam Darnold will get one more shot to pull the Panthers out of the NFC South basement (which used to be known as Buccaneers Cove).
Joe hates Saints fans, but in some ways Joe would prefer to see Watson in New Orleans. Falcons head coach/playcaller Arthur Smith is an offensive wizard and had an underrated season as a first-year Atlanta head coach last year, going 7-10. Joe has a lot less confidence in Saints playcaller Pete Carmichael, the longtime Sean Payton understudy.
Regardless, Watson will face our beloved Bucs twice a year — barring a last-minute change — and his destination team is going to lose a fat wad of premium draft picks.