Patience In The Running Backs Market
March 17th, 2022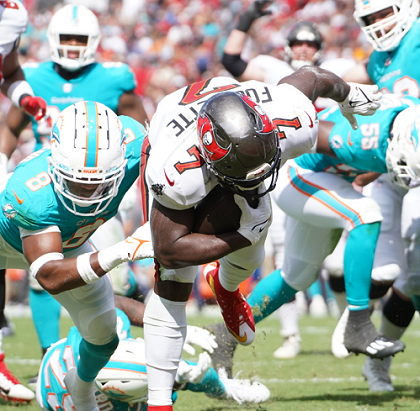 The Cardinals re-signed running back James Connor for three years at $21 million. Joe winced when Connor got that deal.
Bucs free agent Leonard Fournette is a better and more accomplished player than Connor, and both will play this season at 27 years old.
You can bet that Lombardi Lenny wants a bag like Connor's. The Bucs' No. 1 running back watched Tampa Bay general manager Jason Licht pay $10 million a year to receiver Russell Gage this week, an outsider who doesn't find the end zone like Fournette. Joe can imagine what was going through his mind when Gage came to Tampa.
Joe doesn't blame Fournette for wanting his payday He's earned it, and he's in his prime.
So what will Licht do? Joe hopes Licht stays patient, and considering Fournette is unsigned at 8:15 p.m. on Thursday, Joe assumes Licht is doing just that.
Joe looks at the Colts' quarterback situation and admires how they are not panicking, likely waiting for the trade price to drop on Jimmy Garoppolo or Matt Ryan, or if Baker Mayfield gets free.
There are running backs on the free agent market and the Bucs can stay a little patient with Ke'Shawn Vaughn on the roster and options in the draft, and various veteran third-down backs available that might meet Tom Brady's standard.
Last year, Fournette earned $3.25 million after turning down multi-year deals elsewhere, per reports. So Joe assumes the Bucs are probably offering Fournette at least $5 million guaranteed in 2022 and 2023, and Lombardi Lenny surely wants $8 million or more.
Maybe $3 million is not a big enough difference for the Bucs to run the risk of losing him, but maybe Tampa Bay must be firm (for now) if they have hopes of signing Fournette and, say. defensive lineman William Gholston.
It's a chess game for Licht. He hasn't panicked yet and Joe doesn't expect him to.
Enjoy Thursday's Ira Kaufman Podcast!