Most Likely To Give A Hometown Bucs Discount
February 27th, 2022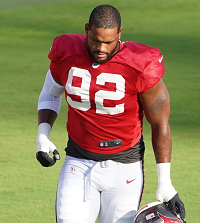 With so many in-house free agents to sign, Buccaneers general manager Jason Licht will be looking for a deal.
Joe doesn't think he'll have to look far.
After last year's Super Bowl win, the Bucs re-signed all their key free agents and hometown discounts were tough to find. Maybe they got a little relief from Lavonte David, Leonard Fournette, Aaron Stinnie and Rakeem Nuñez-Roches. Maybe.
So who gives the Bucs a break this year, when they have less available cash?
Joe's looking at versatile defensive linemen Will Gholston, one of the big guns of the Bucs' run defense. The 2013 fourth-round pick is one of the best value selections in team history. He hasn't missed a game since the 2017 season and has improved markedly as a pass rusher over the past two years.
Gholston just completed a five-year, $27.5 million contract and he wants to be a Buccaneer for life. Gholston recently explained that Tampa is home for him and his family, and certainly his huge charitable donations back up his words.
So what is Gholston worth on the market as a beastly run defender with playoff experience and coming off a 4 1/2-sack season. That's a great question. Five million a year? Six or seven?
Joe sees Gholston as a guy willing to work with Licht on a five-year deal that's backloaded and modestly priced so the Bucs can absorb a near nothing cap hit in 2022.
It would be very cool if Gholston had four more years in him as a Buccaneer. Thirteen or fourteen total seasons in pewter and red would be stunning. That's Derrick Brooks territory.