Last Pick Standing
February 27th, 2022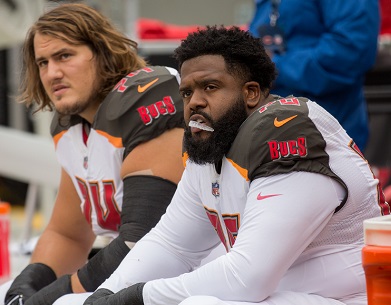 Lots of reflecting today on Ali Marpet retirement day.
Right now, Joe's thinking about the Bucs' big grand slam of the modern era.
At the time, it was the fruits of the 2015 NFL Draft. General manager stepped to the plate and belted out Jameis Winston, Donovan Smith, Marpet and Kwon Alexander with his first four draft picks. Three of the four made Pro Bowls as Buccaneers, and two became bedrock players on the dominant offensive line of a Super Bowl champion.
Joe dubbed it the "grand slam" in 2015, and it was justified. The Bucs found a top-10 offense that season behind a punishing running game with rookie offensive linemen helping lead the way. And Alexander was a spirited linebacker and one hell of a fourth-round pick.
As of today, Smith is the last man remaining in pewter and red from that entire Bucs draft class.
The Bucs have one left from 2014 (Mike Evans), one from 2013 (Will Gholston), and one from 2012 (Lavonte David). That's one reason Joe scoffs when people say, "Draft that guy and you can plug him in for the next 10 years." Sorry, but that's the NFL rarity not reality.
Later, Joe will remind Bucs fans of another important grand slam in team history that has an important message as we sit just 15 days from the kickoff that is free agency 2022.