Will Byron Leftwich Be Bucs Head Coach In 2022?
January 29th, 2022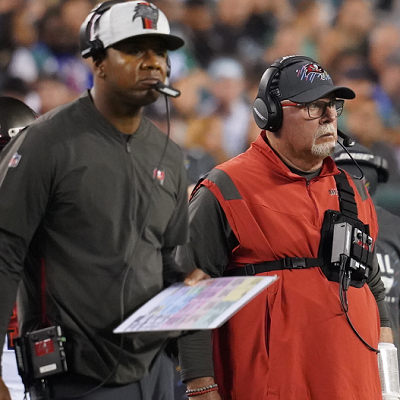 Change is in the air.
Isn't it always?
Tom Brady said he would play at least until he's 45. He even speculated that he could command a huddle at 50. Now he's retiring at 44.
So why would Joe possibly believe Bucco Bruce Arians will 100 percent keep coaching in 2022, if Team Glazer was willing to keep paying him?
Arians said he will be head coach this season, but that was before Brady retired.
Joe wonders whether Team Glazer, realizing Arians may only have one more season left in him, will not want a lame duck head coach in the driver's seat for 2022.
Sure, you could argue Arians as head coach is the Bucs' best chance to win a Super Bowl. Joe won't dispute that. But Team Glazer may not want to be nearsighted any longer. Joe could see Team Glazer making a play for offensive coordinator Byron Leftwich to be head coach in 2022, with Arians moving up to a consultant role helping general manager Jason Licht and Leftwich, and serving as a community ambassador.
What about Todd Bowles? Well, what about him? Bowles got a hearty raise/extension after last season. It seems doubtful that he'll get a head coaching job in 2022, so the Bucs might be able to keep the band together if they make a move on Leftwich now.
The Bucs need a new starting quarterback, hopefully a long-term answer, so losing Leftwich certainly seems more problematic than losing Bowles.
Joe would put a few bucks (not much) on Arians not being head coach this season.