"We'll See After My Surgery"
January 23rd, 2022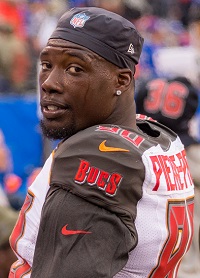 One of the great warriors in Buccaneers history acknowledged tonight that his Tampa Bay career may be finished.
Four years of blood, sweat, tears, broken bones and major joint injuries have battered the body of Buccaneers edge rusher Jason Pierre-Paul.
At 33 years old, he's headed for offseason rotator cuff (shoulder) surgery. And JPP told local media tonight that he's unsure of his NFL future.
"I don't know. We'll see after my surgery," JPP said. It was a comment similar to one he delivered a few minutes prior.
JPP was one of the great moves of the Jason Licht era, as the general manager thieved him from the Giants for a third-round pick a month prior to the 2018 NFL Draft. JPP had 12 1/2 sacks for a bad Bucs team that year before transitioning successfully from 4-3 defensive end to an outside linebacker in Todd Bowles' 3-4 defense.
JPP was the Bucs' only Pro Bowler for the 2020 season and was a beast during the Super Bowl run. Injuries this season turned him into a pass-rushing liability at times, though nobody could ever question his heart and hustle.
It was fitting tonight that he sprinted for a fumble recovery against the Rams and was hustling for the many loose balls.
If this is the Tampa Bay end for JPP, Joe will salute him as one of the great and most memorable Buccaneers in history.
One day, JPP will tell the full story of his 2019 return from a broken neck, including how he managed his post-injury diagnosis, recovery and contract negotiation.