Lavonte David's Strange "Turmoil" Quote
January 23rd, 2022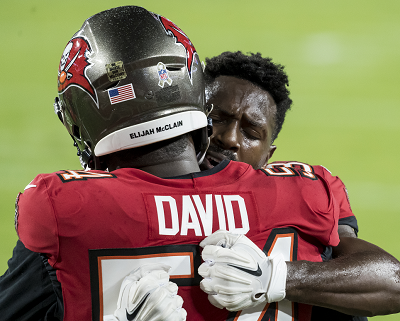 The longest tenured Buccaneer had plenty to say after this evening's soul-sucking loss to the Rams at The Licht House.
Lavonte David wrapped up his 10th season with Tampa Bay by leading the team in tackles today and by dropping an eyebrow-raising quote to reporters.
"It wasn't going to be a cakewalk [this season], obviously, because it's football. Things happen. People get hurt. You have some mishaps here and there, guys bump heads," David said. "You know, so that's what happened this year. You had a lot of turmoil going on, man, you know, in the organization. And then you got guys injured, guys who played huge parts of our football team, huge parts of our success. But it just goes to show you've got young guys coming in, stepping up and filling that void. You know, it just goes back to the management and the coaching staff having guys ready. It definitely was a tough season, man. Guys playing through injuries, all type of injuries. That's why I respect all those guys in that locker room."
David went on to praise coaches for their work and referenced the team battling all kinds of different issues.
Really strange word choice from David when he spoke of "turmoil" in the organization and how "guys bump heads." Joe reads that as "Antonio Brown." But hopefully it didn't go beyond that.
Joe was told many weeks ago that David knew Brown was ready to explode long before he did. Remember, David had strong ties to Antonio Brown's father from his pre-Nebraska days, and he knew Brown in a different kind of way via their south Florida connections
Speaking tonight, David openly said he is very sure that the Bucs roster will look a lot different next season, whereas last season the Bucs eagerly brought back every starter and a load of backups.