Top-3 Players To Rest On Sunday
January 3rd, 2022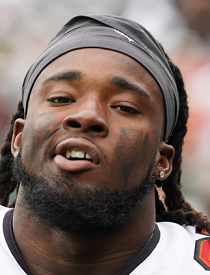 Yes, the Bucs must win Sunday to secure a shot at the NFC's No. 2 playoff seed, but Joe is being realistic.
First, the Panthers, Sunday's Bucs opponent at The Licht House, are owned by a far-beyond-ridiculously wealthy Wall Street type named David Tepper. Joe is convinced Tepper is smart enough to know his five-win team needs to lose on Sunday in the best interest of the franchise. So Joe expects Carolina to be tanking against the Bucs.
The Bucs have an old roster that could use a break before the playoffs, but that gift goes only to the Packers and their No. 1 seed.
Regardless, the Bucs should rest at least some players
Using as much logic as possible: here is Joe's top-5.
*Ndamukong Suh – He turns 35 this week and he hasn't touched a quarterback in four weeks. The numbers say he could use a breather.
*Ronald Jones – Maybe he's got a significant ankle injury (suffered yesterday) but Joe would sit Jones even if it's minor. The Bucs should be extra cautious with RoJo in case Leonard Fournette cannot return.
*Devin White – White didn't look himself yesterday or in the week prior against Carolina. Last year, White benefitted greatly from two weeks after courtesy of The Sickness. He came back and looked like the fastest man on the field. After battling quad and hip issues this season, Joe would roll the dice and give White a day off.
Bruce Arians says resting players = hurt feelings, but good sense has to prevail.
On that front, Joe hopes Mike Evans and Rob Gronkowski plays very limited snaps on Sunday. Gronk cranked out 70 plays yesterday and has been shouldering a huge load. It's has last chance for a break and Joe would cut Gronk's blocking duties and limit his overall work.
Joe would love to rest an offensive lineman or two, but that absolutely can't happen if Tom Brady is on the field. And yeah, Joe wants no part of Blaine Gabbert until the game is out of reach.