"Tom's The MVP Every Year"
January 5th, 2022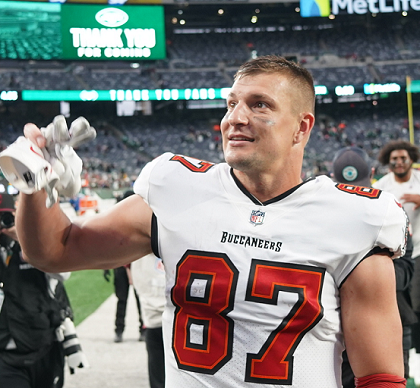 Rob Gronkowski gave the right answer to a question about the NFL MVP today, but it was not a tongue-in-cheek response.
And Gronk is known for playing the wiseass card.
After practice today, Gronk was asked about Tom Brady being the 2021 season MVP.
"Tom's the MVP every year," Gronk said. "I mean just the way that he adjusts on the fly, you know, to his personnel, just trying to get the ball into the best player's hands or the best matchup on that current play. He's just always ready to go no matter what the situation is. He's MVP every year, baby."
For those who question whether Brady is MVP material, Joe would refer them to the final drive against the Jets.
Brady was rolling 93 yards with time ticking down and throwing to Tyler Johnson, Cyril Grayson and new arrival Le'Veon Bell. Legendary!
The team that makes the best adjustments keeps advancing all season long, Gronk added, and that's Brady.
Gronk called Brady's production this season is "surreal," given his age, consistency and power. And for more doubters, Brady leads the NFL in passing yards, pass attempts, completions and touchdowns. If a 20-something year old QB had those numbers, the national media would be screaming for the guy to be MVP.