The Immortal Cyril Grayson Saves The Bucs
January 2nd, 2022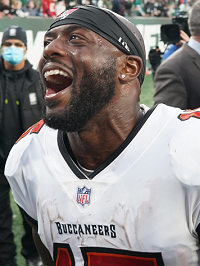 Joe guesses every Bucs fan knows who the immortal Cyril Grayson is.
Joe refers to Grayson as "the immortal" because former Bucs guard Ian Beckles once took to his podcast and bellowed, "I never heard of this guy in my life!" outraged after a Bucs loss last year when Tom Brady threw to Grayson who had the pass bounce off his face mask.
Today, Grayson saved the Bucs' hides, if not their lives, n a game they frankly should have lost because they played so badly.
After it appeared furniture-tossing, bicycle-winging, tantrum-throwing, quitting Antonio Brown may have walked off an NFL field for the last time, the Bucs had to rely on guys like Tyler Johnson and Grayson. And Grayson came up huge with a 33-yard pass touchdown catch for the Bucs to take their first lead of the game in a come-from-behind win.
This is what championship teams do. They find a way to win using guys who rarely see the field.
You know, guys like Grayson.