"My Mouth Hit The Floor"
January 7th, 2022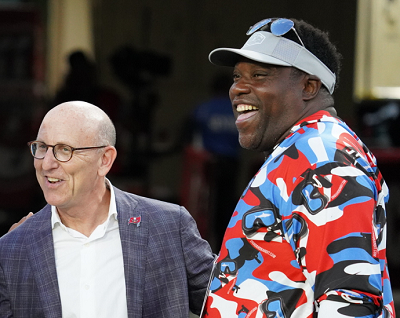 Warren Sapp is known for having a direct pipeline to Team Glazer. It's certainly common from them to be seen together at a Bucs game.
So when Sapp was talking about the Antonio Brown saga to The Rich Eisen Show this week, Joe couldn't help but think Sapp was referencing a conversation with a Bucs owner.
"My mouth hit the floor," Sapp said of Brown walking off the field topless. "I hit somebody with the team and I got the greatest response I could ever get back, 'I guess we got an extra seat on the way home.'"
So who would Sapp "hit" with the team — during the game? Yeah, there are at least a few Bucs officials that travel with the club. But Joe would wager it was a Glazer.
Interestingly, Sapp didn't blast Brown of have much to say on the off-field situation. It seems Sapp realizes that it speaks for itself.
On the football front, Sapp talked about the speed of Breshad Perriman and noted how Cyril Grayson can catch, so he remains very confident with Tom Brady at quarterback. (Sapp routinely gushes over Brady.) Doubling Mike Evans outside the numbers is perfect for opening up the middle of the field where Brady is best," Sapp said.
"You're going to need 30 to beat us" in the playoffs," insisted Sapp, as he also laughed at the Tampa Bay defense.
No one is a sure thing to knock off the Bucs in the NFC, Sapp added as he mocked the Packers. So he's very confident the Bucs have enough to go back to the Super Bowl as the No. 2 overall seed in the NFC. "San Francisco will beat the Rams [on Sunday]," he said.