The Frontal Assault & The Future
January 7th, 2022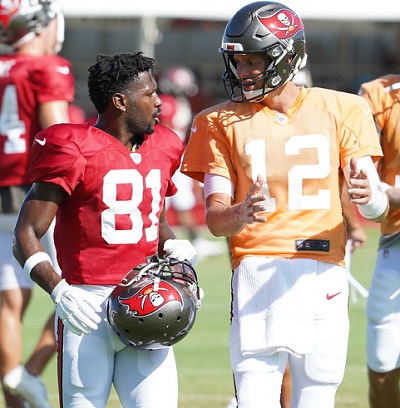 BY IRA KAUFMAN
Sage Ira is presented by Bill Currie Ford, home of the nationwide lifetime warranty on new and used vehicles. Tampa's only Pro Football Hall of Fame voter joined JoeBucsFan.com in 2016. Ira has been typing for a living for nearly 50 years. A renowned french fry connoisseur, Ira is heard weekly on SiriusXM Mad Dog Radio and on his heralded podcast.
Here we go again, Buc fans, dealing with the fallout from a world-class diva fiasco.
Two defending NFL champions, 18 years apart, undermined by the selfishness of wide receivers with their gaze firmly on the stat sheet rather than on the Vince Lombardi Trophy.
In both cases, it turned into a blood feud between the head case and the head coach.
In 2003, it was a disgruntled Keyshawn Johnson whose relationship with Jon Gruden frayed beyond the point of repair. The Bucs were 4-6 when Gruden reached the breaking point, essentially telling Johnson "don't come 'round here no more."
GM Rich McKay reluctantly deactivated Johnson for the final six games, although the Bucs had not been mathematically eliminated from the playoff chase. That tells you all you need to know about how toxic the situation was.
So Johnson got paid handsomely to keep his distance from One Buc Place and he would be dealt to Dallas the following March for Joey Galloway — one of the best trades in franchise history.
"For whatever reason, he didn't want to be here," Gruden said in explaining Johnson's expulsion from the team. "We worked hard to get him the football, we want our players to be happy. But unfortunately, it has festered for a while."
The Gruden-Johnson blowup had been months in the making. McKay acknowledged that Johnson had been missing team meetings and often appeared disinterested.
"From a player's perspective, from a coach's perspective and from an organizational perspective, this situation has become a distraction," McKay said.
Turn the clock ahead to today and we find another Buc team trying to stay focused through the fog of war. Antonio Brown, who couldn't find a way to play for Mike Tomlin, Gruden or Bill Belichick, has now taken on Bruce Arians, weaponizing social media.
If Twitter had been around in 2003, you can bet Keyshawn would have ripped Gruden a new one as the Bucs stumbled to a 7-9 finish. Now Brown, with the help of his agent and attorney, has launched a frontal assault on Arians, questioning his truthfulness and overall character.
For Buc fans tired of Brown's pathetic act, there's only one relevant question: how will this farce affect Tampa Bay's chances to repeat.
The answer is simple: we don't know.
Blessed?
While the Bucs will miss Brown's undeniable skills on the field, his departure could prove to be a blessing for a locker room which has spent much of the season looking the other way at Brown's antics.
Brown claims his sore ankle is the point of contention. I'd aim a little higher and look for a bruise. I'd focus on the fragile ego of an elite player who once couldn't stomach all the attention given to JuJu Smith-Schuster in Pittsburgh.
Now he can't handle all the footballs sent in the direction of anyone else. This is madness.
On a per game basis, Brown received virtually the same number of opportunities as Chris Godwin this season. He's been targeted quite a bit more than Mike Evans.
What's the problem?
The answer has been here all along. It's the man in the mirror.
Evans tried to defuse the situation on Sunday, but Brown gave him the stiff arm. The Bucs are fortunate to have selfless receivers like Evans and Godwin. Tom Brady didn't have much to say about Brown and that's sad because he essentially punched the guy's ticket to Tampa.
Brady would rather talk about the formidable challenge posed by Carolina's defense, so it was up to Arians to face the music and all that jazz. Jason Licht? AWOL. The Glazers? Nowhere to be found.
The Bucs are heading to the playoffs and Brown is undoubtedly heading to Twitter to further air his grievances. Nothing in his sordid past suggests he has in any way earned the benefit of the doubt.
After Brady made the Bucs an offer they couldn't refuse, Brown helped a forlorn franchise win a Super Bowl. That is undeniable. This season, he helped the Bucs earn headlines for all the wrong reasons.
All in all, Buc fans will take that scenario seven days a week and twice on Sunday, as Warren Sapp liked to say. Once a key player, Brown is now a nuisance, a pebble in the organization's cleats. He's great fodder for sports talk radio and he even made the national news a few times in recent months, sandwiched between reports on the pandemic and severe weather.
What's next for No. 81?
Can you imagine a podcast co-hosted by Keyshawn and Antonio? No guests, just a lot of banter as they speak to each other … in the third person.