It Seems Tom Brady Has Advice For Hungry Coaches
January 20th, 2022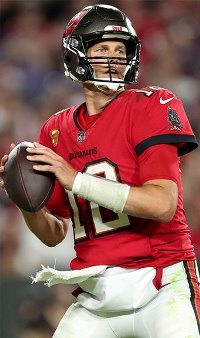 Ironic words from Tom Brady today as Byron Leftwich and Todd Bowles prepare to interview for head coaching jobs with other organizations before the Bucs kick off Sunday against the Rams.
Brady was talking about ramping up preparation for playoff games and dropped this gem.
"This isn't the time of year for the, you know, trips to the movie theaters. This is a time to lock in on football," Brady said. "All we have is three days left and we got to earn more. So just look at it like that, everything that you can put off until the end of the year."
That reminded Joe of when Brady ditched his family leading up to the Super Bowl last year, so he could prepare for the Chiefs in solitude.
So what would Brady think of Leftwich and Bowles lining up and doing major interview prep in the hours leading up to Sunday's clash with the Rams?
Joe must note that Brady himself launched a clothing line last week and did an early-week virtual interview on Good Morning America. So perhaps he took one look at the Eagles' film and wasn't concerned.