Ira Kaufman's 10 Takeaways From Jets-Buccaneers
January 2nd, 2022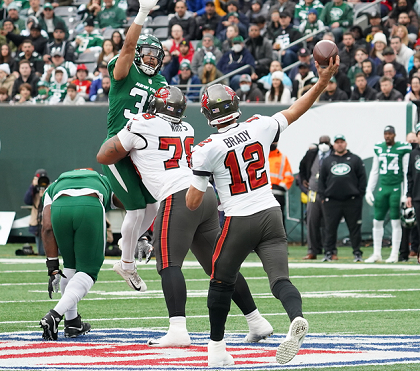 BY IRA KAUFMAN
Sage Ira is presented by Bill Currie Ford, home of the nationwide lifetime warranty on new and used vehicles. Tampa's only Pro Football Hall of Fame voter joined JoeBucsFan.com in 2016. Ira has been typing for a living for nearly 50 years. A renowned french fry connoisseur, Ira is heard weekly on SiriusXM Mad Dog Radio and on his heralded podcast.
I wonder what the late John Madden would have thought about Sunday's game.
The Hall of Fame coach surely would have been thrilled by another Tom Brady miracle finish. The Hall of Fame coach would have been equally appalled at the lack of respect for the game shown by Antonio Brown.
Brown may have survived a fake vaccination card, but he showed his true disposition with an on-field tantrum destined to be shown for the next 48 hours on ESPN and Twitter. If Brown's agent has a shred of decency, the next phone call should be to a mental health professional because his client needs immediate help.
The Bucs needed a little help Sunday in a game they trailed from the start. The Jets obliged with a mind-numbing call on fourth-and-2 at the Tampa Bay 7-yard line, leading 24-20 with 2:12 remaining.
It was a gutsy decision by Robert Saleh to disregard a chip-shot FG that would have put the Jets ahead by 7, but you could see his point. If New York converts, the game is effectively over.
But the call. Oh my, the call.
On a day they rushed for 150 yards, the Jets went with a QB sneak and Zach Wilson was stopped in his tracks by Vita Vea and Joe Tryon-Shoyinka.
With Chris Godwin out of action and Brown out of his mind, Brady went to work on a 93-yard drive. He nibbled at the start and remained patient before hitting on a 27-yard throw to Tyler Johnson. Then it was Cyril Grayson to the rescue as Tampa Bay tied a franchise record with its 12th win.
Let's not forget it was Grayson who hauled in a 20-yard strike from Brady on third-and-20 to spark a TD drive that pulled the Bucs within 24-17. For anyone who questions Brady's arm strength, check out the tape of that 20-yard dart to Grayson on the right sideline, one of Brady's best throws as a Buccaneer.
For much of the game, the Bucs appeared disinterested. The Jets played very well, capitalizing on poor tackling and a Buc defense sorely missing Lavonte David.
In the end, the Bucs had Tom Brady … and that was enough.
Here's how Tampa Bay remained in the hunt for a high NFC playoff seed while avoiding an embarrassing setback.
* Rob Gronkowski provided a major boost with 7 catches for 115 yards and it came just in time. Gronk had been struggling the past few weeks and it's encouraging to know he's not a beaten-down veteran because Brady will look for him often in the postseason.
* Devin White won't like the tape when he reports back to One Buc Place. Maybe he misses David's calming presence. Maybe he's trying to play through injury. For whatever reason, White was basically invisible. He was credited with two stops as the Jets had their way on the ground.
* Guess what? Brady's back in the MVP conversation. Two weeks after he was shut out by the Saints, Brady shredded the Jets for 34 completions, 410 yards and 3 touchdowns. He saved the best for last and the confidence he exudes in tense situations has an incalculable effect on teammates.
* Brady saved the Bucs but he couldn't save his buddy. Bruce Arians dumped Brown on the spot without consulting Brady. Wonder if Brown will blame the media for the meltdown that likely ended his NFL career?
* It didn't take long to realize Todd Bowles was in for a long day. On the second snap, Michael Carter ran through a huge hole off the right side and rambled 55 yards. The league's 21st-ranked offense rolled up 240 yards in the opening half in building a 17-10 advantage.
* New York's first two possessions ended with touchdowns and the second drive was particularly galling for Buc fans because the Jets registered four third-down conversions, all completions by Wilson. Tampa Bay's pass rush was insufficient with Shaq Barrett sidelined.
* Mike Evans caught a TD pass and gutted it out despite a tender hamstring. With Brady and Arians determined to keep his 1,000-yard streak intact, Evans will be a player to watch in Week 18 against Carolina.
* The Jets entered the game ranked last in the league in both scoring defense and total defense, yet it was the Tampa Bay defense that looked out of sorts. Within the first two minutes, the Bucs were flagged twice for offsides, although one penalty was declined.
* Brady had nine completions of at least 20 yards and he connected with 10 different targets en route to an improbable victory. "We got Tom — and that's all you need," was the post-game assessment from Arians. The Jets are too stunned to argue the point.
* The Bucs have an opportunity to set a franchise single-season mark for wins when the Panthers visit Raymond James Stadium. It's a tune-up for the playoffs, but there's plenty of motivation for the home side. NFC seeding is at stake, along with Evans' streak and Brady's MVP chances. No excuses for a letdown.