A Gronk Revival
January 2nd, 2022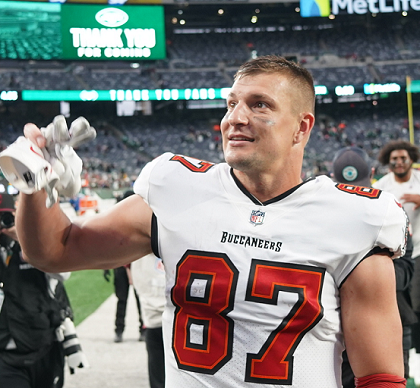 Those who were nervous about Rob Gronkowski last week had good reasons.
Gronk had fallen apart in the last two games against the Saints and Panthers — 3 catches on 13 targets for just 52 yards. He looked plodding and unfocused, and certainly not punishing like he was through four games after returning from broken ribs.
Then came Sunday afternoon against the feisty but bumbling Jets. Gronk started slowly but came up huge with 7 catches for 115 yards as Tom Brady's No. 1 target.
In 11 games this season, Gronk has surpassed his production from all of last regular season. That's extremely impressive, though Joe is concerned as Gronk has played nearly every snap over the last six weeks.
Hopefully, the Bucs can get Gronk a solid rest next Sunday before the playoffs open.
Today's Gronk revival was/is more critical with Antonio Brown imploding and O.J. Howard invisible (even against the Jets) and Cameron Brate unable to do much of anything outside the red zone.