"If We Get'em In A Passing Game, I'm Going To Feel Pretty Good."
January 13th, 2022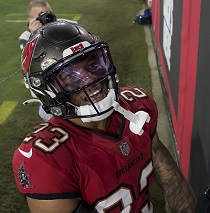 Joe can feel the confidence oozing from Bucco Bruce Arians.
Yeah, he's been showering the Eagles with love all week, saying their a much improved team and an offense loaded with speed. But ultimately Arians believes he can win via accomplishing one major goal: forcing Jalen Hurts to throw.
Whether that means getting a big lead or a sound run defense, Eagles passing is what Arians wants. "If we get'em in a passing game, I'm going to feel pretty good," he told SiriusXM NFL Radio last night.
That one-liner from Arians came after he was asked whether the Bucs' steady flow of blitzes will be changed by the Eagles' uniquely balanced attack. Arians said the Bucs are likely to use more run blitzes, but ultimately they want to get to their comfort zone of hunting the quarterback.
He also added that the great speed of the Eagles won't necessarily mean Tampa Bay will play more zone defense. (Joe has to wonder a bit about that given the mild hamstring concerns with Jamel Dean and Sean Murphy-Bunting.)
Arians also glowed about speedy Philadelphia rookie receiver DeVonta Smith, saying his route running was among the best he's ever seen coming out of college, but Joe thinks that's just Arians hyping the opponent. Smith hit a major rookie wall over the past seven games.