Early Forecast: Bring Scuba Gear
January 13th, 2022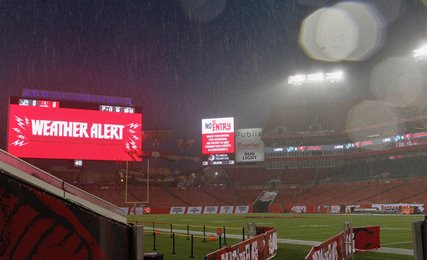 Prepare to be wet as a snook Sunday.
That's the early word from meteorologist Denis Phillips of WFTS-TV Channel 28. Phillips (who is in the Todd Wright Fantasy Football League sponsored by Bill Currie Ford each season) has an early outlook for the Eagles-Bucs playoff game Sunday. He advises fans to brace for a wet and windy day.
GAME FORECAST | Rain moving in around midday / early afternoon, heavy at times first then could linger as a light/moderate rain for 1-2 hrs.+. Winds: 20 mph, gusts to 30 mph. This far out the margin of error is high enough to likely see continued adjustments to timing/intensity. pic.twitter.com/85RwALWpwG

— Denis Phillips (@DenisPhillipsWx) January 13, 2022
So basically be ready to be on the boat (or pirate ship) if you are going to the game Sunday. That also includes loading up on Big Storm Brewing beer, (Big Storm Brewing beer is coming to New Jersey!), which smart boaters do.
With the Bucs' offensive line, Joe is not worried if the Bucs have to go ground-and-pound. It actually might be a good thing.
And don't worry, Bucs fans, the Bucs have won an important game in a monsoon before.